Implementation Countries
Germany
AZO GmbH & Co.KG: Simplifying support for complex plants at AZO
Image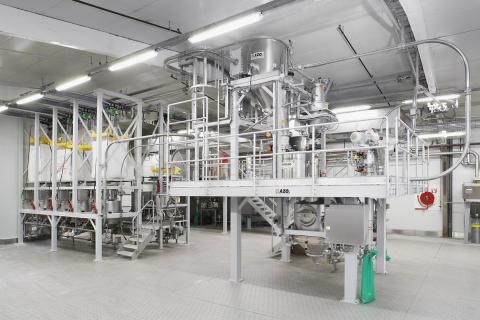 Project Description
AZO understands how a wide variety of demanding raw materials flow, trickle, mix and need to be stored. This is the traditional company's core expertise, with more than 70 years of experience. The AZO Group learned the art of raw material handling during its beginnings supplying bakery equipment. The company has its greatest competitive advantage when standard assemblies are not sufficient, as special raw materials require special logistics and know-how. For years, the company has been developing beyond plant engineering to raw material automation for international customers in the cosmetics, pharmaceutical, food, plastics or 3D printing industries. This specialist knowledge is the reason why no two plants are the same, but customers receive their own solution from different combinations of almost 100 components. This degree of complexity presents a challenge for the documentation and maintenance processes of the plants, as well as for the support provided by AZO employees.
Customized training and education of the thousands of possible combinations had previously only been possible with a great deal of effort for each customer. AZO has already implemented several digital projects: for example, the sales department now uses a visual online configuration tool for the plants. The assembly of plants is supported on-site by a VR app, which helps to identify individual components. However, a customer-centric digital service was missing. This is how the idea of creating myAZOplus, a digital customer portal, came about which offers automated individual services to customers. Therefore, the proposed customer portal was required to have the ability to map individual plants from individual assemblies in terms of content and visually, so that customers would be able to find their plant as a digital twin. The first step and cornerstone of the project was to fully map the spare parts catalogue in the cloud with SAP C4/HANA, as it had previously been managed on-premise with Catalog Creator.
The Project
An all-in-one solution was developed with this customer and service portal, which covers the entire ordering process for spare and wear parts as well as support. The solution is based on SAP Commerce Cloud and represents plants virtually, individual components mostly even as 3D models. The customer portal and the digital twins of the plants are linked to the parts lists in SAP Commerce Cloud. As a basis for the project, the wear and spare parts catalogue from the preexisting ERP had to be completely mapped in the Commerce Cloud. B4B Solutions built this self-service portal and integrated the existing database. This stack is ideally equipped to meet the requirements of a digital plant representation. Additional solutions developed by B4B Solutions such as Media Management, Media Download Portal and Equipment Viewer complete the system with comprehensive content and asset management features. This enables quick and easy access to components and their documentation.
Customers can thus easily find components and spare parts – including technical documentation – on the basis of a 3D model of their own plant. For this purpose, the entire technical plant documentation including plant descriptions and diagrams, booklets, certificates as well as a shopping cart for spare parts procurement was integrated into the customer and service portal. Among other things, AZO took care of creating and cataloguing all 3D data for the machines and components. In this regard, it was a great advantage that AZO had already made considerable progress in terms of digitalisation: 3D data of the components already existed and could be used for the project.
Challenges
– Extensive equipment structure and long spare parts lists
– Digitalisation of some of the older plant components
– Linking diagrams and documents
Objectives
ORDERING PROCESS
Reduced administrative effort for ordering spare parts
Integration in SAP ERP means that existing
objects such as equipment structures, accounts and document data sets can be used.
SELF-SERVICE
All in one place
Access entire technical equipment documentation with equipment descriptions -and diagrams,
booklets and certificates. A shopping cart for spare parts procurement is also integrated into the customer and service portal.
CONTENT MANAGEMENT
Easy PDF export from a long spare parts list with a very extensive equipment structure
Integration of numerous types of CAD and product data for platform and shop.
Customer Benefits
With myAZOplus, customers can use a single platform for all product-related tasks. Customers' service technicians can now  use 3D models to fi nd spare parts more conveniently than before and order them immediately. They also have direct, easy access to technical documentation for all components. This reduces the workload of AZO's support team, as manually created orders are no longer necessary. Customers also save a lot of time ordering spare parts or fi nding documentation.
Thanks to the representation of all components as digital twins in 3D format, customers can virtually view the plant as individual parts and select individual components. In the future, customers will also be able to fi nd operating data and data visualisation in the myAZOplus portal. This smart data approach is intended to help optimise and monitor production. In practice, this significantly reduces the workload for AZO employees in aftersales. Customers benefit from self-service support by being able to visually find all important documents and spare parts for their plant in the portal.
Why SAP
SAP was crucial as a central "data hub".
Customer Testimony
MYAZO®PLUS COMBINES A WIDE RANGE OF DIGITAL SERVICES ON A SINGLE PLATFORM TO OPTIMALLY SUPPORT OUR CUSTOMERS IN THE SALES AND PLANNING PHASE AS WELL AS WITH SERVICE ISSUES. EACH OF OUR PLANTS IS UNIQUE AND NOW HAS ITS CORRESPONDING DIGITAL IMAGE.
THOMAS STEINBACH, CIO AZO GMBH & CO. KG
Project: Implementation of myAZOplus, a customer and service portal including an online shop for products and spare parts. Features innovative functions for spare parts identification and storage of related documents. Fully integrated with SAP ERP
Project duration: 256 project days
Customer data

Name
AZO GmbH & Co.KG
Country
Germany
Sector
Chemicals, Food Industry, Industrial Machinery and Components, Pharmaceutical, Telecommunications
Number of employees
101-500
From the initial conceptual design to innovative individual components for storing, discharging, screening, conveying, dosing and weighing raw materials to the turnkey solution, the AZO Group offers everything from a single source: plant construction, process engineering and process IT perfectly coordinated, without interfaces.
For more than 60 years, the family-run company with headquarters in Osterburken and two other production sites in Germany has been ensuring the reliable handling of raw materials in fully automated processes. The AZO Group employs 800 people and is represented around the globe by a comprehensive network of subsidiaries and sales companies.
Partner data
Name
All for One Customer Experience